resume week 2 fall 2020 junior training
Last week Opgona fall 2020 Junior Training continued with its second week; the week when the functional and technical tracks take their own route. Where the students and the trainer, Luc van Vugt, for the technical track gathered again at the Fletcher Hotel Mooi Veluwe in Putten (NL), the functional attendees and their trainer, Coen Overgaag, diverted to the office of Cegeka-DSA in Veenendaal (NL).
This years extra challenge came from he COVID pandemic. How to #staysafe, and still get the job done together on-site as the latter is one of the major strong points of our Junior training: being with the students as close as possible.
technical track
Week 2 for the technical students is where they get to learn about the technique that's behind Microsoft Dynamics 365 Business Central. Typically something they, being on the technical track, have been looking for during the first, introductory week: how is the data stored? how do you design the user interface? what code makes the posting working?
Monday morning was focused on an introduction to the architecture of Business Central and to VSCode, the development environment used to program against a Dynamics 365 Business Central environment and build your extension with. In the afternoon the coding of tables and pages was discussed and, led by a number of exercises, the students setup up their first VSCode AL projects and deployed their first extensions. Tuesday was centered around the AL programming language and the exercises exposed the students to data access methods and coding patterns. Armed with this new knowledge and experience on programming (against) Business Central, on Wednesday the students were challenged with the first case of the Junior (Developer) training, the Course Registration case. Guided by a fairly (technical) detailed requirement document tables and pages had to be build, and a number of business rules coded. Next to this the trainer introduced them into the world of events. Thursday was fully dedicated to a second case, Sport Planner. Given a requirements document with far less details, the students were challenged to apply all things learned that week, and use their common sense to get everything implemented. As in the previous days the students were highly motivated, and moved through the case with a very nice speed. When unclear they consulted and supported each other or did turn to their trainer. Microsoft Teams showed to be a tool of high value allowing to #staysafe and be able to have a close look at each others work and the issues to be tackled. The Sport Planner case was also used to challenge the students to estimate their work, and discuss together how realistic they were. It appeared that the major part of the group indeed had quite realistic estimates.
The last day, Friday, attention was payed to a number of configuration matters relevant to developers (morning) and the somewhat softer side of being a developer and with homework assignment based on this last topic the students left for home and a well-deserved weekend.
We all can look back on a great week. Challenging, hard working, great weather and environment, a very positive and constructive group atmosphere. A big compliment to all!
functional track
After an energetic first introduction week, conducted by Rob Gabriels, we started off to go in dept into the finance part of Microsoft Dynamics 365 Business Central.
This week the participants did not only learn finance functionality, but they also learned business administration, in order to better understand how financial concepts are applied into Business Central.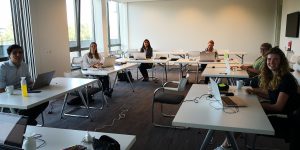 Monday we started of by creating our own company and fill the data using Rapid Start. And ended the day going through the generic structure of Business Central. The participants received a syllabus containing a business administration case in simple wording. Tuesday we spend time on financial concepts and the most important master data concerning Finance. A few of these concepts were the next day repeatedly gone through. Wednesday we went through the financial processes in BC from the perspective of a financial department. Time was spend on the daily tasks, monthly tasks and yearly tasks. Some time was spend on controlling the system, a crucial responsibility for finance is a correct setup. Two days were reserved for this, so by the time it was Friday we could spend time on financial reporting.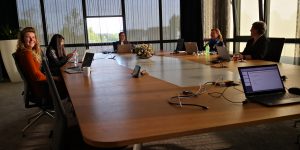 We can look back at a productive training with lots of fun and learning with focus points on the major financial topics. Great to see people so eager, interested and helpful to each other. We can look back at a fantastic week!
what's next
The technical track will proceed with its 3rd week on 14 October 2020. In this week the students will be posed a first great challenge having building a standard application. Each day they will have to deliver their code in Azure DevOps and will get it reviewed before the next day.
We're looking forward to it!
Interested after reading this resume?
Feel free to contact us at info@opgona.academy and get more insight into our Microsoft Dynamics 365 Business Central Junior training and how it can fit your needs