From a historical perspective
Since more than 15 years Navision, Dynamics NAV, Dynamics 365 Business Central is supporting a warehouse management module. During this period, the module did not get that many changes. The process flow in most warehouses is quite common, inbound, and outbound, although every warehouse can and will have its own complexity and sub-processes. And yes, even nowadays the application can support this complexity and different sub-processes. In this post we want to focus on the two options in Goods Handling, Order by Order and Multiple Orders. When to use an Inventory Put-away, Pick or Movement versus a Warehouse Put-away, Pick or Movement?
If you click the Role Explorer and expand it, you will see the differences named in both sections. Order by Order is supporting Inventory Put-Aways, Inventory Picks and Inventory Movements. Multiple Orders is supporting Warehouse Put-Aways, Warehouse Picks and Warehouse Movements. What are the differences for these documents and what to use when as the names of the documents can be confusing?
In the past the difference used to be that activities performed Order by Order in basic warehousing and when they are consolidated for Multiple Orders in advance warehousing. This difference was related to the license granules and prices of the application several years ago. The warehouse management module had a split for basic warehouse processes and advanced warehouse processes. Today all documents are part of the 'basic' application called Microsoft Dynamics Business Central Essentials.
From a process perspective
The main differences in the use of the documents are whether the warehousing processes works with or without receiving and shipping. These options are set on the location card, tab Warehouse (see images below).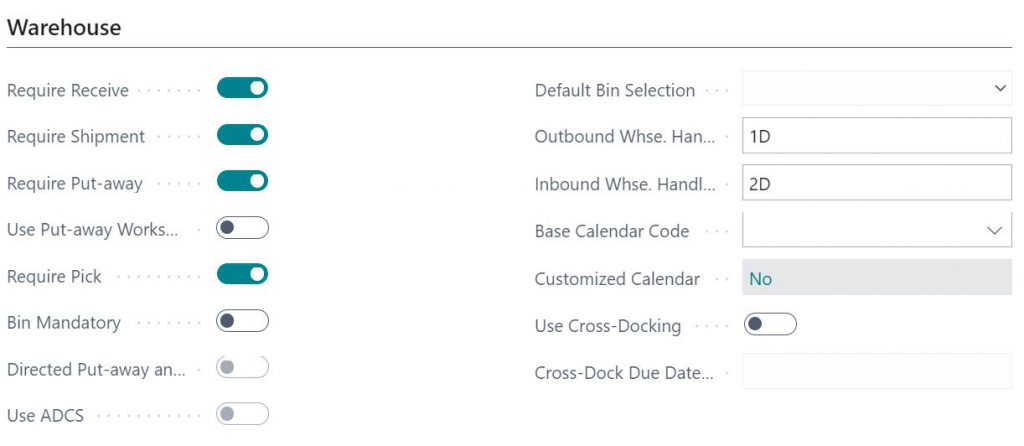 Settings Multiple Orders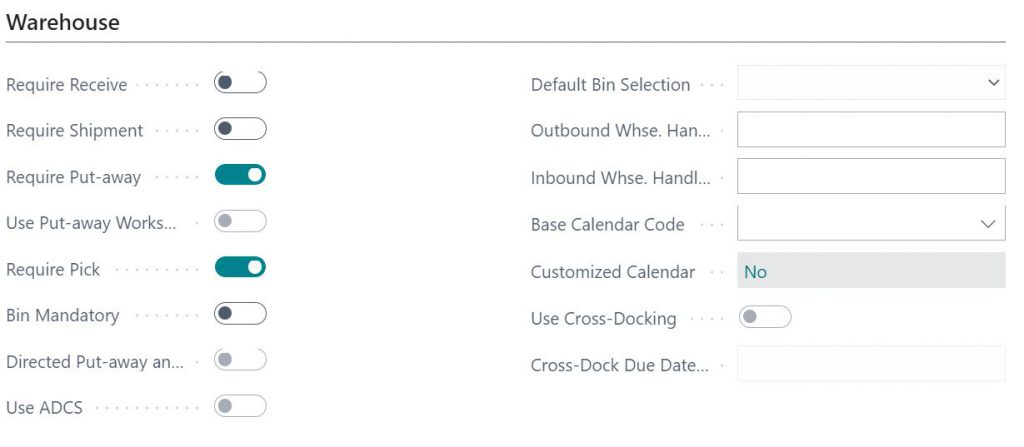 Settings Order by Order
If the options Require Receive, Require Shipment, Require Put-away and Require Pick are all activated on tab Warehouse (image Settings Multiple Orders), the processes must be executed via the documents Warehouse Receipt, Warehouse Put-away and Warehouse Shipment, Warehouse Pick.
If only the options Require Put-away and Require Pick are activated on tab Warehouse (image Settings Order by Order), the processes must be executed via the documents Inventory Put-away and Inventory Pick.
From a perspective of settings
Before you start any warehouse simulations, make sure the user is registered as Warehouse Employee for a location with one of the required documents for that specific location. Without a link to a location a warehouse employee is not able to process any of the required documents.
Keep in mind that the Warehouse Setup, including the settings on the location card and the warehouse employee(s) are very essential to manage the processes correctly. Error messages in the Warehouse module are not always that clear to solve the problem immediately. If you change the location for the Warehouse Employee, you have to logon again or to refresh.
I would advise to activate the Location Mandatory field on the Inventory Setup when starting these warehouse processes if special locations are set up. Without any specified location(s) in the company the same settings for the required documents can be made in the Warehouse Setup.
From a perspective of differences and/or similarity
The images below are showing the differences in processes, functions and documents for Order by Order and Multiple Orders. With a lot of similarity in names the documents, processes and functions in both images are slightly different. That makes it sometimes confusing what to use and when. Some differences are mentioned in next bullets:
The function Get Source Document is present on an Inventory Put-away, not on a Warehouse Put-away. The same for Inventory Pick vs. Warehouse Pick.
An Inventory Movement can be created manually and always derived from production or assembly consumption. A Warehouse Movement must be created from a Movement Worksheet.
An Inventory Put-away and Pick can be posted. A Warehouse Put-away and Pick must be registered.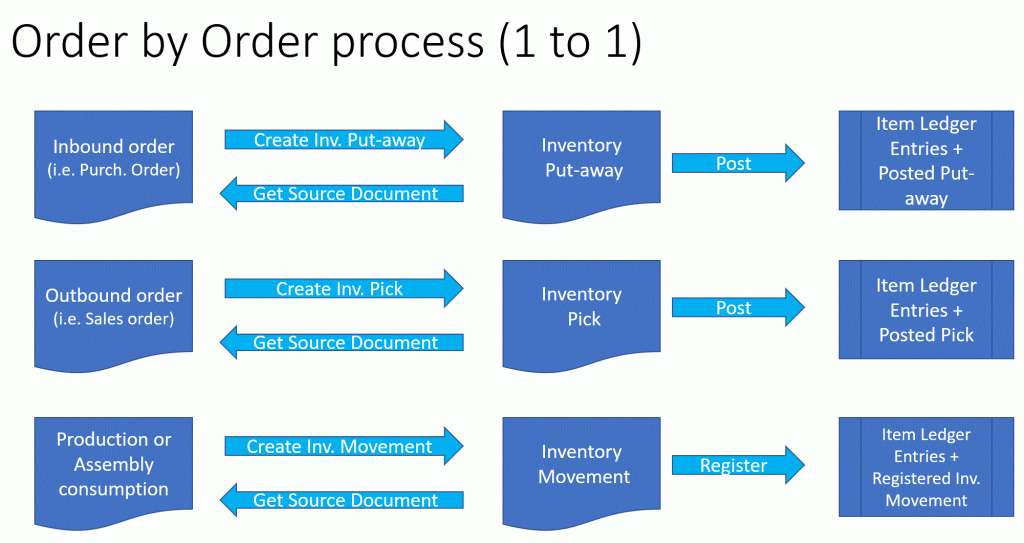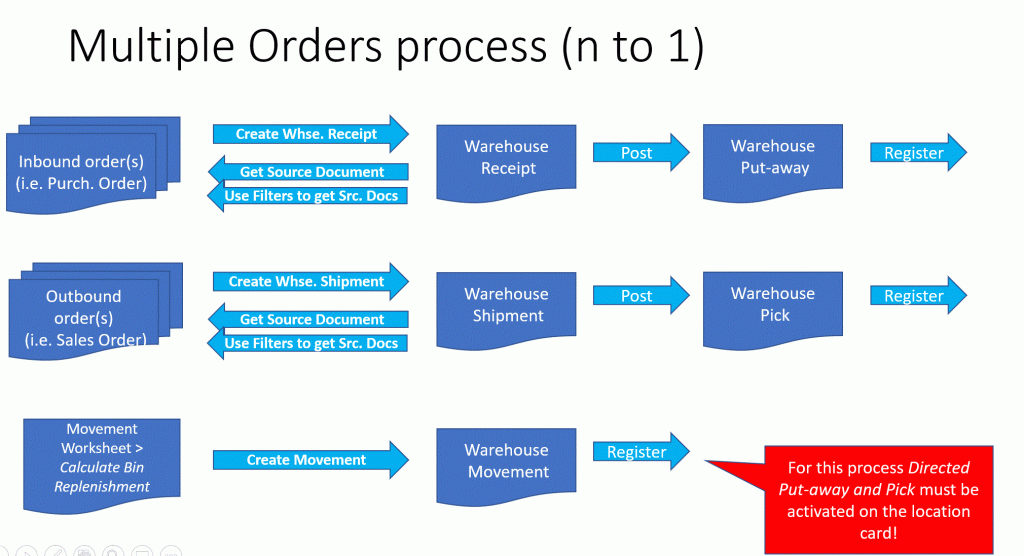 From a future perspective
If in the current situation a new warehouse management module would be developed this split of similar documents would be probably combined in one document in my opinion. A new design could bring more clarity. Years ago, this split was pure a commercial consideration. Now we must deal with this, and any explanation is always welcome.